Press Release
View printer-friendly version
RapidFit Prepares for International Expansion Thanks to Financial Support by the Flemish Investment Company, PMV
Leuven, August 5 2013 - RapidFit NV (part of the Materialise Group) is proud to announce the successful completion of a financing operation that should enable international expansion and faster growth. The TINA fund of the Flemisch investment company PMV has hereby invested in RapidFit NV, via capital participation and a subordinated loan.
Thanks to a number of initiatives, Flanders can be seen as a pioneer in the field of Additive Manufacturing (AM)/ 3D Printing. Since 1990, Materialise has proven that AM can be the driving force behind radical new approaches in design and production, even making the impossible, possible. RapidFit+ is a prime example of this.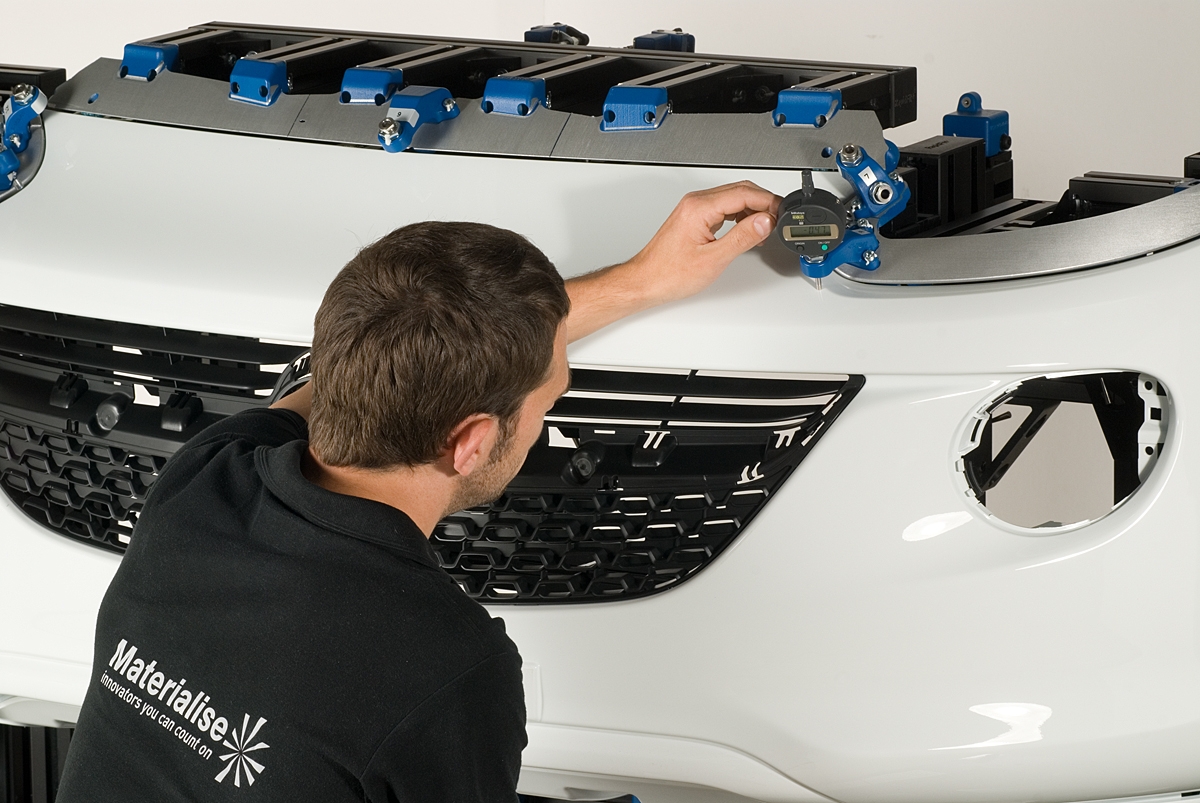 RapidFit+ focuses on the fixturing niche of the automotive industry. The patented RapidFit+ systems are used to check the dimensional quality of car components. A thorough management of the dimensional quality is crucial to the overall quality of the final car.

Its unique, innovative process makes RapidFit a real game-changer in this niche. Thanks to Additive Manufacturing, the entire design and production process of fixtures has made a giant leap forward. The combination of a modular structure with the large freedom of design and the flexibility of AM allows for a highly adjustable and largely re-usable system. In addition, it is possible to deliver entirely customized solutions. What's more, advanced functionality can be integrated into the fixtures. Short leadtimes, quick design changes and long-term savings are just a few of the benefits the RapidFit+ system offers when compared to traditional systems.

Filip Dehing, CEO RapidFit comments: "RapidFit NV aims to contribute to the global consolidation of what is currently a very fragmented niche industry. Thanks to the investment of PMV and the additional subordinated loan, RapidFit is now in the ideal position to become a preferred partner for large automotive companies on a global scale, and to fully exploit new opportunities."

For further information about Materialise and RapidFit products and projects, including images, please contact:
Stefan Roeding – Marketing Manager, RapidFit
Phone: +32 16 39 66 11
Email: mailto:stefan.roeding@materialise.be?subject=Request%20Case%20RapidFit
Vanessa Palsenbarg - Corporate Communications Specialist, Materialise
Phone: +32 16 39 66 37
Fax: +32 16 39 66 00
Email: mailto:Vanessa.Palsenbarg@materialise.be?subject=Request%20Case%20RapidFit
Twitter: @belgiancanuck
About RapidFit NV
RapidFit is part of the Materialise Group and with its RapidFit+ products and services it offers a revolutionary fixturing solution for the automotive industry. Top companies in the automotive industry work with the RapidFit+ team.

As a modular system, RapidFit+ offers a high degree of customization and accuracy while also allowing for the re-use of standardized elements. In addition, thanks to the design freedom of AM, advanced functionality can be integrated into the fixtures, such as snap-fits and clips. These in turn enable increased repeatability and a better representation of the part environment. Modifications also become straightforward and quick to accomplish, leading to a reduction in risk and production downtime.
http://rapidfit.materialise.com
About Materialise
With its headquarters in Leuven, Belgium, and branches worldwide, Materialise has been playing an active role in the field of Additive Manufacturing since 1990. In addition to having one of the world's largest capacities of Additive Manufacturing equipment, Materialise also enjoys a stellar reputation as a provider of innovative software solutions. The advantages of Additive Manufacturing have been used by Materialise to develop unique solutions that make a world of difference for its many customers with their prototyping, production, and medical needs. These customers range from large companies in the automotive, consumer electronics, and consumables sectors; to famous hospitals, research institutes, and clinicians; to individual consumers interested in bringing their own unique creations to life through i.materialise or who want to purchase a celebrated .MGX design.
http://www.materialise.com

About PMV and TINA
PMV nv is a Flemish investment company. It finances promising entrepreneurs from the very start through the growth to the internationalisation of their business, and also invests in large infrastructure projects. It focuses on the sustainable economic development of Flanders, with demonstrable added value for both economy and society. (www.pmv.eu)

The Flemish economic landscape is changing rapidly. Revolutions in production techniques, ICT, globalisation, ecology and energy require new, adapted industrial policy.
To maintain our competitive edge under these circumstances, the Flemish government and PMV are setting up a unique investment fund: TINA. This is an acronym that refers to the much needed 'Transformation, Innovation and Acceleration' of Flanders' industrial fabric.
TINA is a market-driven investment fund in the hands of PMV. It manages EUR 200 million in risk capital. This funding reinforces innovation with strategic potential and accelerates its marketing. To this end, PMV always works with market parties who act as Consortium Partners.