Press Release
View printer-friendly version
Materialise's Surgical Guides for Osteotomies around the Knee FDA 510(k) Cleared
Materialise has yet another innovation that received FDA 510(k) clearance: this time for their solution for osteotomies around the knee. Materialise developed 3D surgical planning and patient-specific guides for correcting malaligned or deformed legs through osteotomies. With this FDA 510(k) clearance, this solution will now also be available to U.S. surgeons and patients.
Reviewed by the Medical World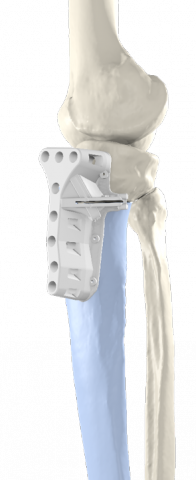 Speaking about the osteotomies, Prof. Dr. Jan Victor, head of the orthopaedic department at UZ Gent, Belgium, stated, "The surgical planning and patient-specific guides led to more predictable and better results compared to traditional surgical procedures. These 3D-printed guides take the diversity of each patient's anatomy into consideration, providing a personalized approach for patient care."
The favorable results of Materialise's procedure were published in 2013 by Jan Victor and Ayishwariya Premanathan in The Bone and Joint Journal. Discussing their findings, the authors wrote that the fit of the guides were "snug and stable in all cases" and that "3D pre-operative planning is crucial in defining the necessary correction, especially in cases where bi and tri planar corrections are required." Overall, the authors found the result to be "very promising" and endorsed the benefit of this practice from the standpoint of pre-operative software-based planning, surgical application and boast the accuracy of outcomes in terms of measurement.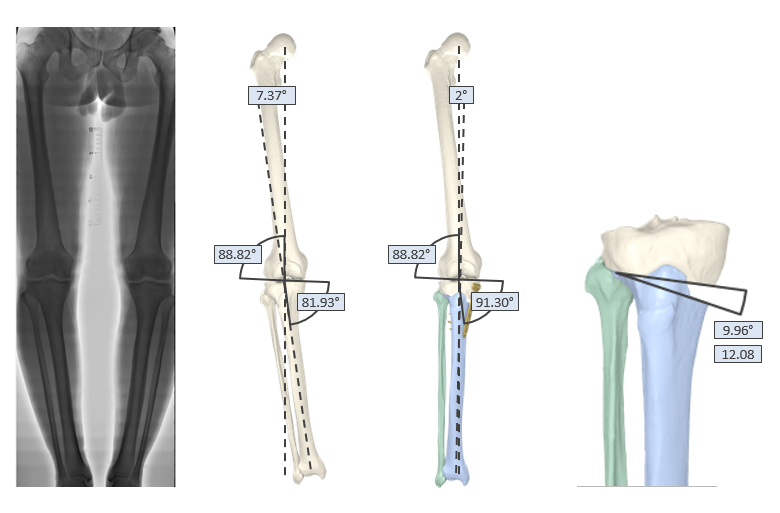 Materialise's Osteotomy Planning and Guides
After a surgeon decides to perform an osteotomy around the knee, he or she works closely together with one of Materialise's Clinical Engineers to plan the osteotomy in 3D. This 3D surgical plan allows the surgeon to visualize the surgery before the first incision and prepare for a singular, dual or triple planar osteotomy. The surgeon then can order a patient-specific guide, based on the 3D plan, to fit directly on the bone of the patient. This technology helps to reduce the complexity of the surgery by enhancing predictability.
About Materialise
With its headquarters in Leuven, Belgium, and branches worldwide, Materialise has specialized in clinical engineering services and 3D Printing since 1990. Their Clinical Engineers collaborate with surgeons from different orthopaedic and cranio-maxillofacial disciplines to plan their surgeries in 3D planning software. That plan can be transferred to the OR via patient-specific instruments or guides, which are 3D printed. Apart from their medical activities, Materialise has also used their experience and expertise to create a better and healthier world through their involvement in 3D Printing software solutions and AM for industrial applications. Their customers range from large companies in the automotive, consumer electronics and consumables sectors; to famous hospitals, research institutes and clinicians; to individual consumers interested in bringing their own unique creations to life through i.materialise or who want to purchase a celebrated .MGX design.