Press Release
View printer-friendly version
Materialise Malaysia & Melinda Looi Present Asia's First 3D Printed Fashion Show
Kuala Lumpur, June 2013 – What happens when you take a Belgian-based pioneer in Additive Manufacturing (also popularly known as 3D printing) software and solutions and combine it with an award-winning Malaysian fashion designer? The results are a spectacular marriage of technology and fashion, as evidenced in Asia's very first 3D printed fashion show, presented by Materialise Malaysia and Melinda Looi.

The theme of the night was "Birds". An avid lover of nature and the environment, Melinda Looi professes to have always been inspired by these beautiful, flighty creatures that are an amazing engineering feat by Mother Nature herself. The designer sent a collection of five avian-inspired creations down the runway – Face It (headgear), Stand on Me (wedges), Her Love and Strength (necklace), Let Her Shine (skirt), and Open Wings (cape). Models presented Melinda's creations in nude bodysuits, with equally minimalistic hair and makeup so as not to distract from the fascinating details and mechanisms of each outfit.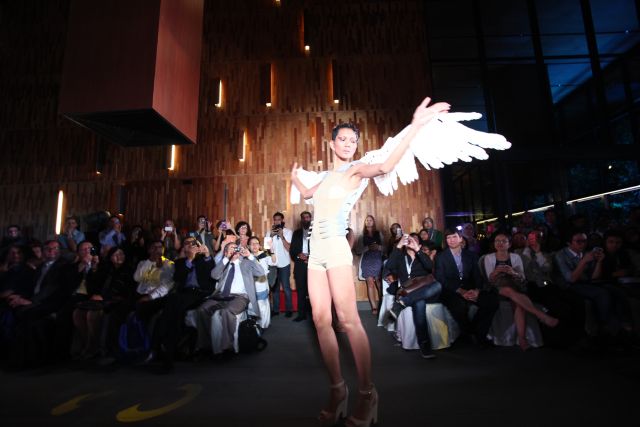 Each piece took months to design, create, and convert into a 3D file, which was then sent to Belgium to be printed at the Materialise headquarters. "The design process has been a real eye-opener and highly educational experience for me." The entire collection took a team of six to eight people to bring to life, including three 3D modellers, two engineers and Melinda's own team of course.

"This project was challenging because it involved co-ordinating efforts and technical expertise. On the other hand, it was also great fun to be able to work with such an innovative technology. Creating fashion with technology has always been something I wanted to do, so when Materialise approached me with this opportunity, it was like a dream come true! The collaborative effort involving people from different fields and backgrounds truly reminded me that exciting and beautiful things happen when art and technology meet! It is truly a great honour to be the first Asian fashion designer to design a collection using AM technology," said Melinda

In addition to designing Asia's first 3D printed fashion collection, Melinda also co-judged a 3D Printed Accessory Design Contest organized by Materialise. The contest received entries from around the world, offering designers an opportunity to work with a technology capable of bringing one's wildest creative visions to life. 10 winning designs were selected to be 3D printed and exhibited at the 3D Print Fashion Show on June 14, 2013.

The designs will also be featured on the i.materialise online gallery and shared with the rest of the world. A few exquisite and exceptional designs may also get the opportunity to be showcased in the .MGX showroom in Belgium.
"We are committed to accelerating the implementation of AM technology in Asia, particularly Malaysia and believe that our collaboration with Melinda Looi will help make AM more accessible to everyday people, break traditional product design barriers and inspire any industry to apply AM in developing unique and individual designs," said Michiels, CEO of Materialise Malaysia.
Check out the video


About Melinda Looi
A purveyor of fine art and vintage chic, Melinda Looi is fashion's answer to Avant-garde in Malaysia, the full throbbing force of elaborate detail and unconventional style.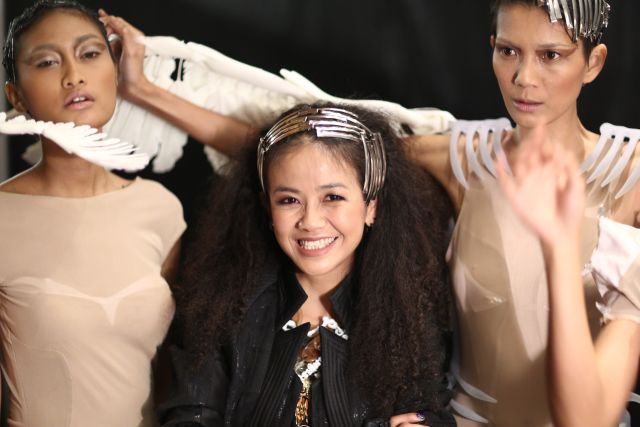 Melinda Looi was born as a daughter of a renowned tailor but her career in fashion was not a planned one. After winning a scholarship to La Salle School of Fashion in Montreal, it was her graduation collection that catapulted her into the spotlight, earning her the Malaysian Young Designer Award 1995 in Kuala Lumpur. Melinda spawned into the demanding and exuberating world of fashion design, carving her niche in various stage productions as well as working with the television and film industry in Malaysia and Canada.


With her unique ability to combine fiction and function into her designs it has won herself major awards, especially to mention twice the prestigious Designer of the Year Award at the Malaysian International Fashion Awards in 2004, 2006 and the Mercedes Benz STYLO Designer of the Year award in 2009. Her most recent achievement is being selected as a Malaysian representative at World Fashion Week to be held in Paris in 2013, with one of her couture pieces currently being showcased in fashion weeks around the globe as part of the build-up activities leading up to the actual event.

About Melinda's 3D Printed Creations (in order of show appearance)
As a nature and bird lover, birds have always been an inspiration for Melinda's creations.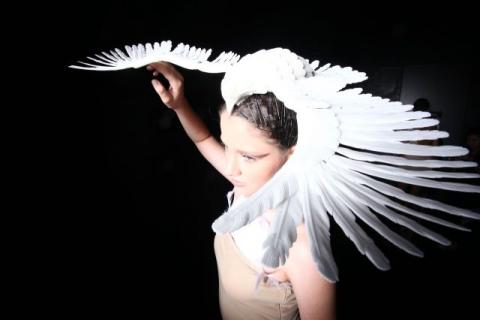 Face it (Headgear) - Challenges are never an issue to her! She will never hide away from obstacles. If we have faith, we can overcome anything! The bird represents Her!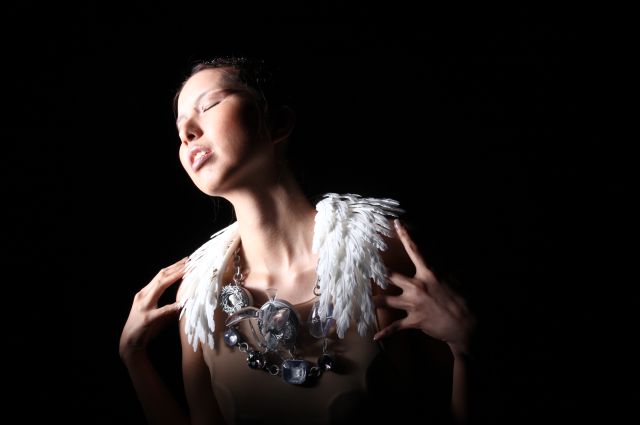 Stand on Me (Wedges)- You can always count on me when you need help or someone to listen to your troubles. The birds that are tough are always ready to fight a battle for you.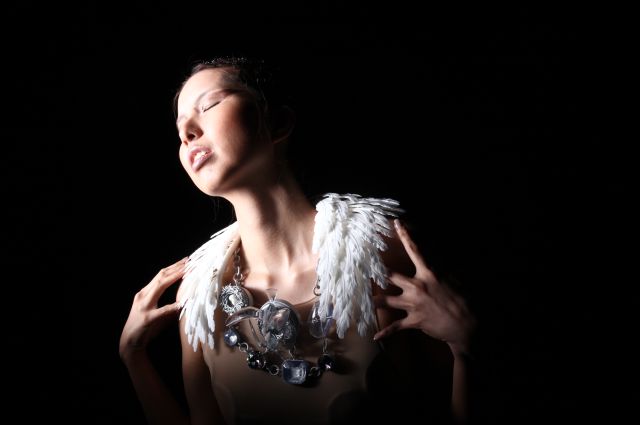 Her Love and Strength (Necklace) - Maternal love is one of the best things on earth. Her love and Strength will always be there to protect us. A necklace with a pair of wings sitting on the shoulders signifies the Strength of our mothers. The nest and the open wings of the birds over the nest to show her love towards her babies. The stones are representing the love and kindness of a mother – shining brightly in all circumstances!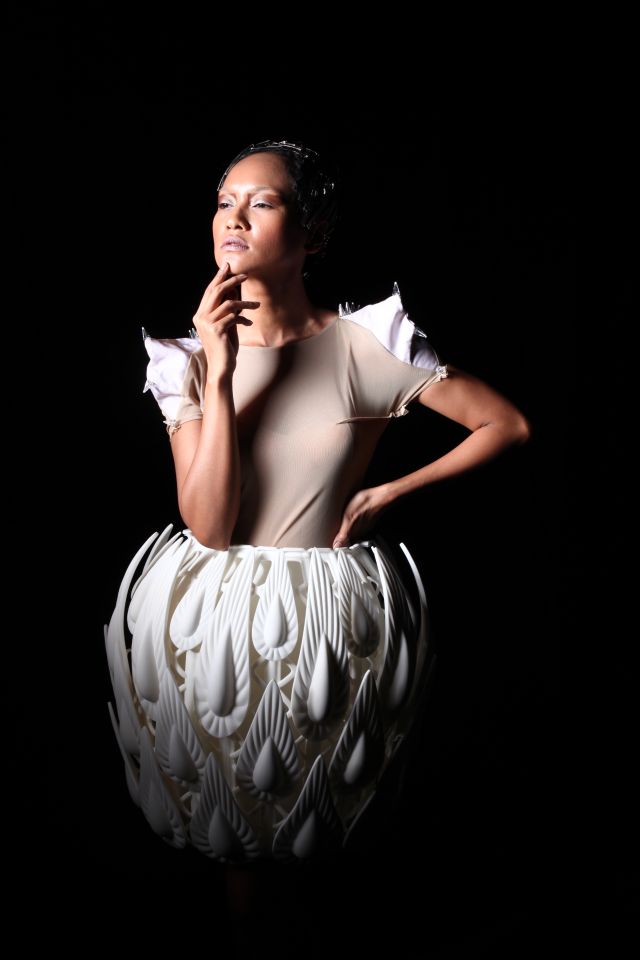 Let Her Shine (Peacock skirt) – Always give someone a chance to show what they can do. You might be surprised and dazzled by their inner strength and beauty! This skirt is inspired by the ever inspiring peacock, especially when their tail is opened into a beautiful fan!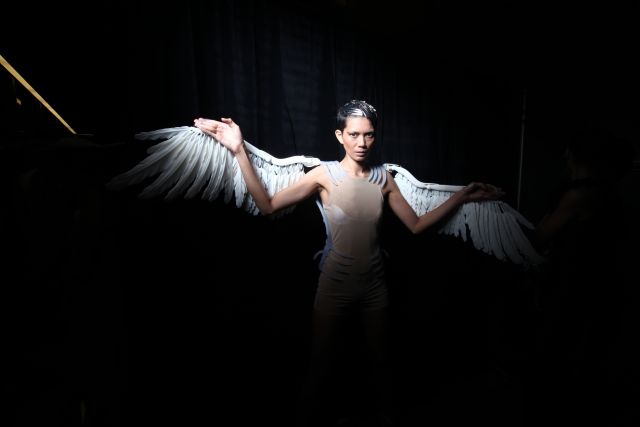 Open Wings (Wings Cape)- She is a warrior! Always persevering, never giving up. BUT no matter how tough she is, she is always there to give her love freely. Opening her arms to welcome any difficulties and give all she can to help others. She represents today's women – tough yet loving, strong yet womanly.
About Materialise
Materialise is a Belgian-based pioneer in Additive Manufacturing (AM) software and solution, that works with various industries in niche markets to create the prototypes of products that will be later manufactured by the millions. Materialise's software also enables others to do the same with their own AM equipment and services. Its software is also powering new innovations in biomedical research and taking patient-specific healthcare to new heights by working closely with surgeons for the planning and execution of complicated surgical procedures. For more information, please log on to our website.

Established in 2000, Materialise Malaysia is the headquarters for Asia, located in Kuala Lumpur. As one of three core R&D sites in the company, Materialise Malaysia plays an important role in product development and driving Materialise's bio-medical services worldwide. Materialise Malaysia is dedicated to foster young talent and set up Materialise Academy to transfer knowledge and train fresh graduates in C++ programs as well as offering internships to students who wish to gain an early insight into the world of AM.
For further information or any other enquiries please contact:
Ms. Justina Seow
Marketing Manager

Tel: 603-2093 2279
Fax: +603-2201 2099
E-mail: justina@melindalooi.com