Press Release
View printer-friendly version
Materialise, an EU-Funding Success Story, Introduces Possible Flagship Project for Horizon 2020
During Industrial Technologies 2012, high profile international speakers from industry, government and research gathered to discuss visions for European research and industry in 2020, how Europe can succeed in the face of global competition, and the form and impact of Horizon 2020. One of these speakers was Wilfried Vancraen, CEO of Materialise, a world leader in Additive Manufacturing/3D Printing and an example of the impact that European funding can have on the growth of young, innovative companies. Now, almost 20 years after receiving the initial funding that has helped him make his company the success that it is today, Wilfried Vancraen presented where, in his opinion, European funding can make an even greater impact in the future.
The main message that Mr. Vancraen brought is that although the EU funding system is already successfully driving innovation, it is not reaching its full potential. Therefore, Mr. Vancraen presented a concept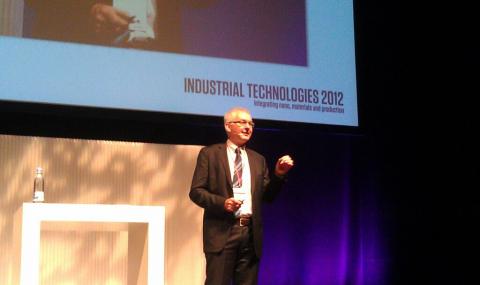 by which European industry and research projects can make a greater impact both on a European economic level and on a humanitarian level. By way of example, he revealed a new initiative that demonstrates how technology, intelligent manufacturing, and a "back-to-the-basics" approach for developed industries can be combined in a project, which has the potential to help people on a large scale: African Drive.
African Drive began when executives from Materialise visited Benin in order to evaluate an ongoing project with the Foundation Hubi & Vinciane. This organization focuses on improving healthcare services in the hospitals of Papané and Boko and has set up a variety of projects to advance healthcare, education, and agriculture in Benin; supported in part by Materialise. While there, it became clear that transportation was a serious problem and that this was an impediment to development in the region. Therefore, it is the aim of African Drive to design and build small buses and vans that are adapted to African circumstances and needs. For example, these buses/vans should be easy to maintain, adapt to the road conditions, have low fuel consumption, transport approximately 12 people economically, and be accompanied by microfinancing to get them into the hands of entrepreneurial locals.
Wilfried Vancraen invited those present at Industrial Technologies to join this promising project, which can already count on the support of some Flemish business and governmental partners.