Press Release
View printer-friendly version
Materialise CEO, Wilfried Vancraen, is Chosen the Most Influential Figure in Additive Manufacturing
Leuven, Belgium. As part of the celebrations for TCT Magazine's 20th year in print, readers were invited to nominate and vote for the Top 20 Most Influential Figures in the Additive Manufacturing industry. Now, with all the votes counted, TCT has announced that industry professionals from around the world have selected Materialise's Wilfried Vancraen as the most influential person in Additive Manufacturing today.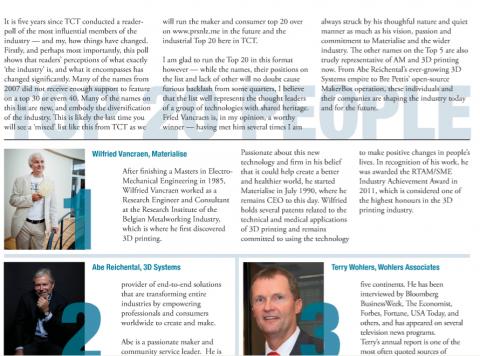 A pioneer in his industry, Wilfried (Fried) Vancraen has been developing breakthroughs in the medical and industrial applications of Additive Manufacturing (AM) at Materialise for more than 20 years. Passionate about AM and firm in his belief that it can help create a better and healthier world, Wilfried is committed to using the technology to make positive changes in people's lives. By choosing Fried as the most influential figure in AM, other professionals in the industry have acknowledged Fried's vision for this technology and Materialise's success in bringing this vision to life under his leadership.
In the words of TCT Magazine Editor, James Woodcock, "Fried Vancraen is, in my opinion, a worthy winner – having met him several times, I am always struck by his thoughtful nature and quiet manner as much as his vision, passion and commitment to Materialise and the wider industry."
Fried had this to say about his first place position on TCT's Top 20 list, "I am honored to have been chosen the most influential figure in an industry that I have long believed has the power to change the world in a very positive way. To receive this incredible recognition from my peers lets me know that I am on the right path with my vision of changing people's lives through AM and will motivate me, and in fact all of us at Materialise, to strive even harder to make this vision a daily reality in the work we do."
The full TCT Top 20 list can be read here in the Anniversary Issue of TCT Magazine