Press Release
View printer-friendly version
Loughborough University's 3D Printing Technology Breathes New Life into Richard III
Thursday, February 7, 2013
Loughborough's world-leading expertise in 3D printing has been used by the University of Leicester to breathe new life into the remains of King Richard III – creating a replica of his skeleton. Materialise is excited to see 3D Printing contribute to such a historic project - and is honoured that the experts at Loughborough could rely on Materialise's Mimics Innovation Suite to help them print a king.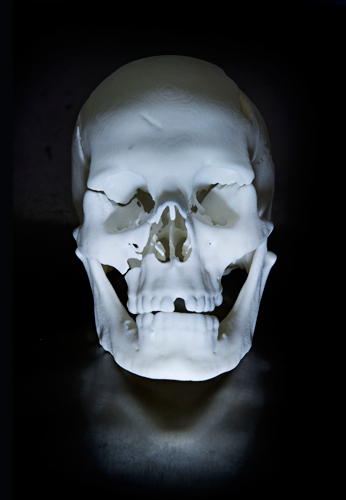 On February 4th, Leicester announced that the skeleton found last year in the city by its team of archaeologists is that of Richard III, whose final resting place remained hidden for hundreds of years.

In 1485 the King was defeated at the battle of Bosworth. His body, stripped and despoiled, was brought to Leicester where he was buried in the church of the Franciscan Friary, known as the Grey Friars. Over time the exact whereabouts of the Grey Friars became lost.

Following extensive research by the University of Leicester, in partnership with Leicester City Council and the Richard III Society, archaeologists were able to locate the former Grey Friars site and unearth the slain King's remains.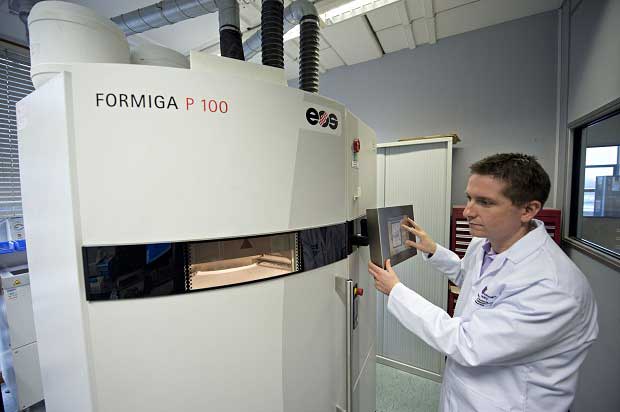 Experts from Loughborough's School of Mechanical and Manufacturing Engineering were invited to make a replica of the king's skeleton, using the latest 3D printing techniques.
Scans of the actual remains taken by the Leicester Royal Infirmary were sent to Loughborough, where they were transformed into a 3D computer model using Materialise's Mimics Innovation Suite. Laser sintering was then used to create a physical replica of the skeleton. Laser sintering is a technique that uses a high power laser to fuse small particles of materials, in this case plastic, into a mass that has a three-dimensional shape.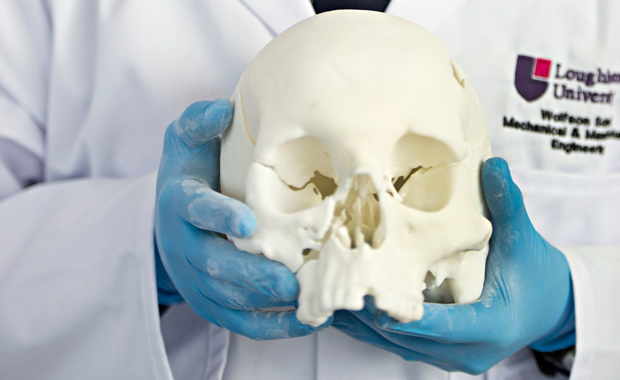 Professor Russell Harris – head of the University's Additive Manufacturing Research Group – who led Loughborough's involvement in the project, said: "Generating the first 3D computer models was a very exciting moment. And later seeing the skull of Richard III emerge from the powder of the laser sintering machine in physical form was incredible.
"It was quite clear to see a number of the significant injuries that he had sustained in battle, and at last the greater story of how the King met his death can be told. Recording various aspects of the remains, in both electronic and physical form, will be invaluable for future studies.
"Our 3D printing and additive manufacturing activities span a great number of disciplines but this was an exceptionally rewarding case to be involved in. Working with Leicester on this incredible discovery has been a privilege, and it is great that two neighbouring universities have been able to share expertise to create a lasting legacy to Richard III."
About Materialise

With its headquarters in Leuven, Belgium, and branches worldwide, Materialise has been playing an active role in the field of Additive Manufacturing (AM) since 1990. In addition to having the largest capacity of AM equipment in Europe, Materialise also enjoys a stellar reputation as a provider of innovative software solutions. They have used their experience and expertise to create a better and healthier world through their involvement in AM for industrial and medical applications, and by providing bio-medical and clinical solutions such as medical image processing and surgical simulations. Materialise has developed unique solutions that make a world of difference for its many customers with their prototyping, production, and medical needs. These customers range from large companies in the automotive, consumer electronics, and consumables sectors; to famous hospitals, research institutes, and clinicians; to individual consumers interested in bringing their own unique creations to life through i.materialise or who want to purchase a celebrated .MGX design.
About Loughborough University

Loughborough is one of the country's leading universities, with an international reputation for research that matters, excellence in teaching, strong links with industry, and unrivalled achievement in sport and its underpinning academic disciplines.

It was awarded the coveted Sunday Times University of the Year 2008-09 title, and is consistently ranked in the top twenty of UK universities in national newspaper league tables. In the 2011 National Student Survey, Loughborough was voted one of the top universities in the UK, and has topped the Times Higher Education league for the Best Student Experience in England every year since the poll's inception in 2006. In recognition of its contribution to the sector, the University has been awarded six Queen's Anniversary Prizes.

It is a member of the 1994 Group of 11 leading research-intensive universities. The Group was established in 1994 to promote excellence in university research and teaching. Each member undertakes diverse and high-quality research, while ensuring excellent levels of teaching and student experience.

Loughborough University has an established global profile in the field of Additive Manufacturing research and its related topics. The work performed by the Additive Manufacturing Research Group is based around a family of processes comprising of adding layers of material and either bonding or fusing them together. These techniques are used to create 3D geometries directly from 3D CAD models with no need for tooling. These technologies are commonly being referred to as 3D Printing. Products produced by Additive Manufacturing have advantages of greater freedom in product design and less reliance on high production numbers required for economic production. Furthermore, as is an increasingly major theme of our activities, our research also focuses on enabling greater potential value and application of Additive Manufacturing by integrating and collaborating with other fields of Science, Engineering, and Manufacturing. We have comprehensive additive manufacturing laboratories, supported by state-of-the-art testing and analysis facilities both within the Wolfson School and wider throughout the University. We have a broad scope of research activities ranging from fundamental investigations to translational activities. The majority of our research activities are conducted in collaboration with industrial partners and encompass a broad range of sectors including aerospace, automotive, consumer, sports, and medical. Much of our work is cross-disciplinary and as such is conducted across different academic schools of the University and externally, both in the UK and internationally. The research group is working with many leading international companies. For further information, please see www.lboro.ac.uk/amrg
Loughborough University Media Contact
Judy Wing
Senior Public Relations Officer
Loughborough University
T: 01509 228697
E: J.L.Wing@lboro.ac.uk
Materialise Media Contact
Vanessa Palsenbarg
Corporate Communications Specialist, Materialise
Phone: +32 16 39 66 37
Fax: +32 16 39 66 00
Email: mailto:Vanessa.Palsenbarg@materialise.be?subject=Request%20from%20materialise.com
Twitter: @belgiancanuck or @MaterialiseNV