Press Release
View printer-friendly version
Iris van Herpen's Wilderness Embodied Collection is Unveiled in Paris and Includes Her First Hybrid 3D Printed Dress
Leuven, Belgium – July 2, 2013. On Monday, Iris van Herpen unveiled her Wilderness Embodied Collection to great acclaim in the impressive entry hall of the Palais de la Découverte in Paris. As the show was held in a building which celebrates scientific progress of all kinds, it is fitting that she yet again explored new terrain in 3d printing by creating her very first hybrid dress. With this dress, she has proved that 3D Printing does not have to be a choice of "all or nothing" when it comes to design. Instead, 3D Printing can serve as a beautiful and functional part of the whole, adding value to traditional craftsmanship.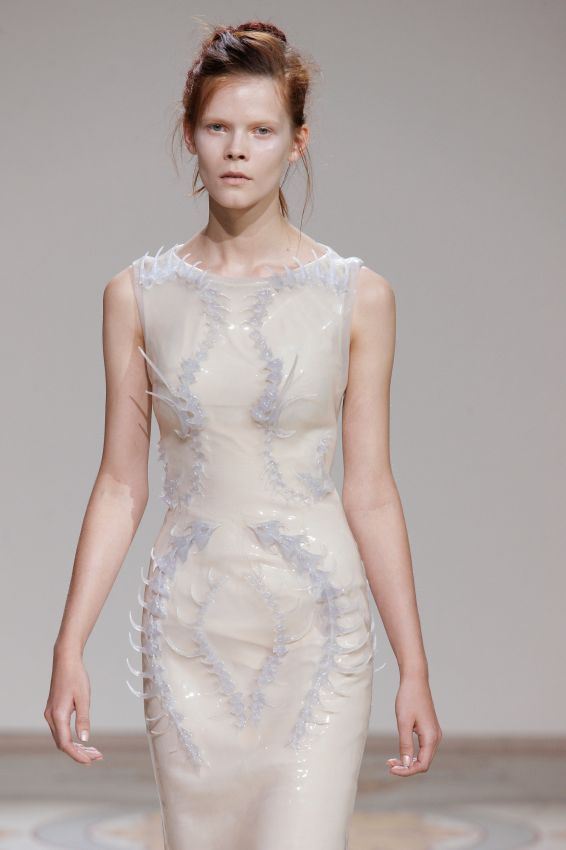 The dress was created by bringing together transparent stereolithography pieces and more hands-on craftsmanship, for an unworldly result. Fine, bone-like pieces were designed on computer before being optimized for 3d printing using Materialise's Magics software. Once ready to print, the pieces were brought to life on Materialise's Mammoth Stereolithography machines using a clear liquid resin. The transparent pieces were then over-moulded in silicon by Iris van Herpen's team, a process that demands great skill and which took weeks to complete.

Speaking about the latest collection Sven Hermans, Account Manager for Materialise said: "For the first time we have worked with Iris van Herpen to produce a hybrid creation incorporating unique, transparent bone-like structures produced with Mammoth Stereolithography. Thanks to 3D printing the dresses are seamless and made to measure. It is exciting working with Iris van Herpen to bring her complex geometrical designs to life; 3D printing does what no other form of clothing manufacture can do when complex shapes need to be created quickly and as one piece."


Iris van Herpen and Materialise
Iris van Herpen's collaboration with Materialise began in 2010 with the Crystallization Collection, done with the support of architect Daniel Widrig and unveiled during Amsterdam International Fashion Week. This was followed by four pieces in 2011's Escapism Collection, a collection again done with Widrig, which debuted to critical acclaim during Paris Fashion Week- Haute Couture. A final piece for 2011 played a central role in an exhibition entitled The New Craft: Iris van Herpen and her Inspiration at the Central museum Utrecht as well as taking to the runway in Paris with the Capriole collection. Known as the Skeleton Dress, this piece was done in collaboration with architect Isaïe Bloch.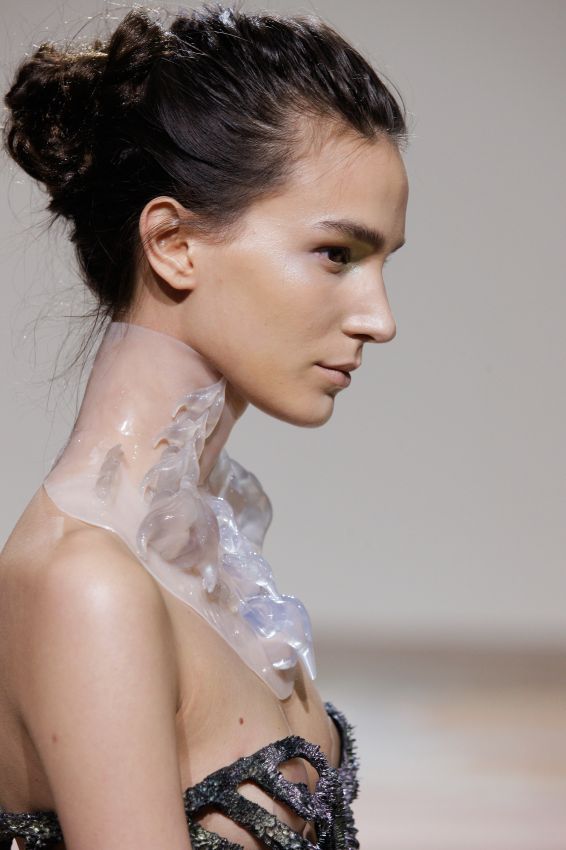 In January 2012, Iris van Herpen revealed her second collection as a guest member of the very exclusive haute couture club - Micro Haute Couture – working again with Bloch. This time, she brought her printed design one step further by having it metal plated for a gorgeous bronze finish. Later in the year, she worked with architect Julia Koerner for her Autumn/Winter 2012/2013 collection – Hybrid Holism – in which she explored Mammoth Stereolithography for the first time. The result was a 3D Printed dress which one awestruck spectator compared to "liquid honey." Finally, in January 2013, ready for an even greater challenge, an experimental new material, TPU 92A-1, was put to use in the creation of a flexible, soft dress of stunning complexity for Iris van Herpen's Voltage Collection. Designed once more in collaboration with Julia Koerner, the piece's intricate lace-like texture was created with precision by lasers (in a process known as Laser Sintering) and would have been impossible to realise any other way.