Press Release
View printer-friendly version
Iris van Herpen and Materialise return to Paris Fashion Week
Thursday, January 26, 2012
Paris, France January 26, Wrapping up the first three days of couture collections during the 2012 Spring/Summer Paris Fashion Week was Iris van Herpen. The 27-year-old Dutch designer is already taking the fashion world by storm and has just unveiled her second collection as a guest member of the very exclusive haute couture club. As with three of her previous collections, Iris van Herpen turned to Materialise to bring her newest 3D Printed design to life.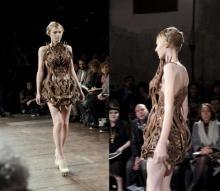 Iris van Herpen, whose fans include Bjork, Lady Gaga, and after this latest fashion show, Beth Ditto of Gossip, worked with Isaïe Bloch in the creation of her newest 3D printed masterpiece. The piece was then brought to life on 3D printers (using a process called laser sintering) at Materialise's Belgian headquarters. You can read more about how this is done here, in a case study about her first Paris appearance. With her latest piece, pictured below, the stunning appearance of antique bronze was achieved through metal plating.
The Materialise Group
With its headquarters in Leuven, Belgium, and branches worldwide, Materialise has been playing an active role in the field of additive manufacturing since 1990. In addition to having the largest capacity of rapid prototyping equipment in Europe, Materialise also enjoys a stellar reputation as a provider of innovative software solutions. They have used their experience and expertise to create a better and healthier world through their involvement in rapid industrial and medical prototyping, and by providing bio-medical and clinical solutions such as medical image processing and surgical simulations. The advantages of additive manufacturing have been used by Materialise to develop unique solutions that make a world of difference for its many customers with their prototyping, production, and medical needs. These customers range from large companies in the automotive, consumer electronics, and consumables sectors; to famous hospitals, research institutes, and clinicians; to individual consumers interested in bringing their own unique creations to life through i.materialise or who want to purchase a celebrated .MGX design.