Press Release
View printer-friendly version
i.materialise Has a Strong Showing at the 3D Printshow in London
Tuesday, October 30, 2012
With thousands in attendance, to call the 3D Printshow, which took place at the Brewery in London from 19/10-21/10, a great success would be an understatement. Not only did designers and software companies attend to see what 3D Printing has to offer; families, students, hobbyists and people who were just generally interested in this 'new' industry also enthusiastically packed the halls of this event. Representing Materialise was a team from the company's consumer division, i.materialise. They were on hand to show people with an eye for design and a head full of ideas the possibilities for turning these ideas into 3D reality.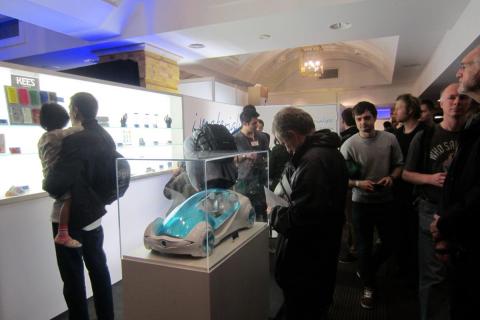 Throughout the three-day event, the i.materialise team was kept busy co-hosting workshops and answering questions and meeting designers and consumers at their booth. The first workshop was in collaboration with Tinkercad, makers of the popular, easy-to-use 3D web application. The audience was shown how they too could start designing for 3D Printing with Tinkercad, with i.materialise explaining the range of materials and finishes that can be used to bring their designs to life. The second workshop was held in collaboration with Digital Forming, the UK software house well known for a TED talk about 3D Printing given by their CEO Lisa Harouni. This workshop introduced attendees to an innovative software platform that will allow product designers to easily and efficiently customize the products they create. Both workshops were a great success for all participants.
At the i.materialise booth, there were a number of demos on display showcasing the designers that the service works with as well as the wide range of materials and finishes available, including metals and ceramics. In addition to these demos, there were several other designs brought to life with help from i.materialise and Materialise being featured in the Art Gallery, during the evening events and proudly displayed at the designer's booths. Incredible pieces where showcased from Iris Van Herpen, Niccolo Casas, Elvis Pompilio, Softkill Design, Mark Bloomfield, Dario Scapitta, Eric van Straaten, and more.
ProtoHouse by Softkill Design: sponsored by Materialise.